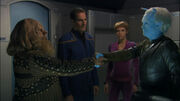 Welcome to Memory Alpha, Albany12204! I've noticed that you've already made some contributions – thanks for your edit to the "USS Rio Grande" page! We all hope that you'll enjoy our database and decide to join our community.
Since you're new to Memory Alpha, I have a few links that you might want to check out:
If you have any questions, please feel free to post them in one of our forums. Thanks, and once again, welcome to Memory Alpha! DarkHorizon (talk) 14:37, November 26, 2018 (UTC)
The above named user is an administratorand their signature was automatically added. If you have any immediate questions or concerns, you may contact that user through their talk page.
Scope
Memory Alpha covers all of Star Trek, and if you have a problem with that, I will continue to block as many accounts as you feel the need to create while pushing your just plain incorrect interpritation of policies I'm sure you have never even read. Try not to let the proverbial door hit you on the way out. - Archduk3 13:58, September 17, 2019 (UTC)
Why do you talk to people as if you are God's gift to this website? This website is supposed to be a collaborative effort, and every time people make a change that you personally disagree with you feel like you can just undo it. Karma is a bitch and so are you. --Albany12204 (talk) 14:00, September 17, 2019 (UTC)
...and that's more time off. Please keep making it easy for me. - Archduk3 14:07, September 17, 2019 (UTC)
Yup, continue being a dictator. Because we all know how history views dictators. --Albany12204 (talk) 14:08, September 17, 2019 (UTC)
Thank you for setting the parameters I can now operate in. You'll find that I have deprived you of speech, here, so feel free to add that to your list of grievances. See you in a month, though never would be better. - Archduk3 14:16, September 17, 2019 (UTC)
Community content is available under
CC-BY-NC
unless otherwise noted.