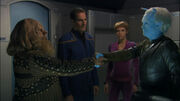 Welcome to Memory Alpha, Alex2424121! I've noticed that you've already made some contributions to our database – thanks for your edit to the "User:Alex2424121" page! We all hope that you'll enjoy our activities here and decide to join our community.
If you'd like to learn more about working with the nuts and bolts of Memory Alpha, I have a few links that you might want to check out:
One other suggestion: if you're going to make comments on talk pages or make other sorts of comments, please be sure to sign them with four tildes (~~~~) to paste in your user name and the date/time of the comment.
If you have any questions, please feel free to post them in our Ten Forward community page. Thanks, and once again, welcome to Memory Alpha! Archduk3 (talk) 16:27, October 11, 2013 (UTC)
The above named user is the most currently available administratorto contribute to Memory Alpha; their signature was automatically added by User:Wikia. If you have any immediate questions or concerns, you may contact that user through their talk page.
Lower Decks images
Is there a reason that you're uploading lower quality images from the Lower Decks series? (720p as opposed to 1080 full HD)? -- sulfur (talk) 15:31, August 7, 2020 (UTC)
They are? I thought I had the quality settings on 1080. I apologise for any inconvenience. If that troubles you, I can go back and try to replace over them.--Alex2424121 (talk) 15:36, August 7, 2020 (UTC)
If you're able -- that would be nice. If not, not a huge stress. Also, check on your names and use proper caps in both the names of the images and the link description. For example "corridor" rather than "Corridor". -- sulfur (talk) 15:42, August 7, 2020 (UTC)
Sure. I don't usually worry too much about caps where I usually edit, but I am trying to follow your standards. I'm a regular content moderator on the Disney Wiki.--Alex2424121 (talk) 16:01, August 7, 2020 (UTC)
Vancouver & Cerritos MSD images
Hi Alex, I reverted two MSD images (Cerritos, Vancouver) to the previous versions which I believe were actual screenshots. The latest version you uploaded looked like they had fan-made watermarks in lower right hand corner (SuricataFX), probably completing the parts of the image just off screen, and the image description didn't indicate any out of the ordinary copyright. MA typically prefers actual screenshots, unless an official production image might be available. - AJ Halliwell (talk) 13:45, September 18, 2020 (UTC)
Sorry about that. I found them on some site and thought they were the real deal because they looked like it. I didn't notice any fan-made water marks.--AlexJarrett242 (talk) 13:49, September 18, 2020 (UTC)
spoilers
Per MA:SPOILER, please do not add spoilers for content that has not "aired", including information about a certain Miranda class starship. You have a good 5 months until that is considered allowable content. –Gvsualan (talk) 17:47, 9 April 2021 (UTC)
Sorry. AlexJarrett242 (talk) 17:53, 9 April 2021 (UTC)
How long are the spoiler notices kept on the pages?--AlexJarrett242 (talk) 20:00, 10 January 2022 (UTC)
As per the link above, "These warnings should stay on the articles for at least two months after the film's release or final episode of the season has aired or been released in the US." At that time, we typically run an automatic process to remove the relevant tags. -- Sulfur (talk) 20:27, 10 January 2022 (UTC)
Trekcore...
IS NOT a valid "official" source-- as far as MA is concerned. This has been stated many times in many places. DO NOT create articles until they have been OFFICIALLY posted by an appropriate source site... –Gvsualan (talk) 17:04, 10 January 2022 (UTC)
Sorry. Understand that because I live in the UK I have limited access to some of the websites you use as sources like Paramount+ (which I hope won't be for long when it become available in my country). I assure I was unaware that Trekcore was invalid and bared no ill intentions. I came across the source links and thought it was.--AlexJarrett242 (talk) 17:22, 10 January 2022 (UTC)
renders
regarding the recent renders you've uploaded, you need to do much better in explaining their souce. If they aren't capped directly from an episode, the specific source (website, social media link, documentary title) needs to be cited or we cannot host them. –Gvsualan (talk) 14:15, 13 January 2022 (UTC)
I'm doing my best, and I'm sorry if my best isn't good enough.--AlexJarrett242 (talk) 14:21, 13 January 2022 (UTC)
The only source I have been able to find is the Alexandro Taini's twitter account, the art director on the show. [1] Not to be disrespective towards you and your policies, but does all this have to be so complicated?--AlexJarrett242 (talk) 14:45, 13 January 2022 (UTC)
Bot-like edits
Earlier today, you had a number of edits that looked suspiciously like the results of running a bot. Running a bot on a regular user account is not acceptable on MA. If you wish to run a bot, please see MA:BOTS for requirements. -- Sulfur (talk) 13:29, 28 January 2022 (UTC)
I just have a habit of missing some edits,errors and so on, and I'm an autistic perfectionist. I can't rest until its perfect. I've done nothing suspicious.--AlexJarrett242 (talk) 13:34, 28 January 2022 (UTC)
I'm not a bot. I've used this account spent seven years and been apart of the Disney Wiki community ever since. I also a content moderator and have many friends there.--AlexJarrett242 (talk) 13:41, 28 January 2022 (UTC)

So you are saying you manually typed "(Updating categories: replaced Memory Alpha images (Holograms) with Memory Alpha images (holograms) (automatic))" and made the associated changes unassisted? –Gvsualan (talk) 13:44, 28 January 2022 (UTC)

Is that what this is about? I have a MassCategorization tool that I use to make simultaneous categorizations. I, my friends and fellow admins/content mods on Disney Wiki use these tools all the time as it makes the job a lot easier than changing the categories one by one, especially when there are thousands that need changing. I used it because I realized a goofed with the hologram image category.--AlexJarrett242 (talk) 13:49, 28 January 2022 (UTC)
And that should have been your first response. "Oh, did you mean the mass categorization tool I used this morning? This is it here <insert link>." -- Sulfur (talk) 13:54, 28 January 2022 (UTC)
I didn't understand what you meant the first time. I've mentioned multiple times that I'm autsistic. I sometimes have difficulties understanding what people say or message. Sometimes I misunderstand the whole thing. It was only when Gvsualan mentioned the categorization I did which helped me understand. I know my autisim is no an excsue but its the only one I can give to explain my behaviour and my responses.--AlexJarrett242 (talk) 14:01, 28 January 2022 (UTC)
I get that. But also note that I said your edits LOOKED like a bot. And a bot gives edit summaries that are automatic. So, for next time, if someone asks you that, think about whether you are using any automated tools. Because strictly speaking, an automated tool is a type of "bot" edit. -- Sulfur (talk) 15:11, 28 January 2022 (UTC)