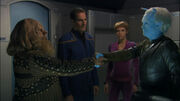 Welcome to Memory Alpha, BradTheAmerican! I've noticed that you've already made some contributions to our database – thanks for your edit to the "Navigator" page! We all hope that you'll enjoy our activities here and decide to join our community.
If you'd like to learn more about working with the nuts and bolts of Memory Alpha, I have a few links that you might want to check out:
One other suggestion: if you're going to make comments on talk pages or make other sorts of comments, please be sure to sign them with four tildes (~~~~) to paste in your user name and the date/time of the comment.
If you have any questions, please feel free to post them in our Ten Forward community page. Thanks, and once again, welcome to Memory Alpha! DarkHorizon (talk) 18:16, April 16, 2018 (UTC)
The above named user is the most currently available administratorto contribute to Memory Alpha; their signature was automatically added by User:Wikia. If you have any immediate questions or concerns, you may contact that user through their talk page.
Redirects
...are categorized differently from their target pages for a reason, in that we don't want to clutter up the main categories with every conceivable alternate term or inflate the numbers of topics we do have. For example, the redirects to cruising speed should be in the measurements redirects category. If you're not comfortable with how redirects are handled, it would be better to not categorize those redirects at all than what you are currently doing, since it will take less work in the long run to fix that way. - Archduk3 15:01, July 30, 2020 (UTC)
Sorry, I wasn't aware of redirect categories. Thank you for bringing that to my attention - BradTheAmerican (talk) 15:23, July 30, 2020 (UTC)
It's cool, the system is still fairly new, and I know a lot of wikis don't bother with this. It's really only for AKA redirects too, as subtopics and the like are still categorized in the main categories, but the safe maximum cruising speed is still just the cruising speed, even if the writers wanted to paid by the word that day. - Archduk3 16:03, July 30, 2020 (UTC)
Tense
We use present tense for concepts that are universal and unchanging, i.e. chemistry (not carbon *was* an element...), physics (not gravity *was*... or light *was*...), etc. If in doubt, ask. Thanks! -- Renegade54 (talk) 22:31, July 30, 2020 (UTC)
Community content is available under
CC-BY-NC
unless otherwise noted.