This user believes in keeping talk page conversations in one place. If you leave a comment here, expect a reply on this page.

---
---
Recommended LayoutYou are currently viewing Memory Alpha without recommended changes to the standard layout. To apply these changes, please click on the following Apply link - to just get rid of this notice, click on Reject. In either case, click Save on the page that follows.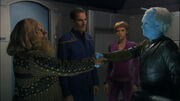 Welcome to Memory Alpha, Bridge! I've noticed that you've already made some contributions to our database – thank you! We all hope that you'll enjoy our activities here and decide to join our community.

If you'd like to learn more about working with the nuts and bolts of Memory Alpha, I have a few links that you might want to check out:

One other suggestion: if you're going to make comments on talk pages or make other sorts of comments, please be sure to sign them with four tildes (~~~~) to paste in your user name and the date/time of the comment.

If you have any questions, please feel free to post them in our Ten Forward community page. Thanks, and once again, welcome to Memory Alpha!

Please note that images for personal use are not allowed on MA/en (such as Image:Actordelta 1.jpg. You are welcome to upload this image to any number of image sharing sites and link it from there, but it will have to be removed from MA as per the policies. Just to give you the head's up... -- Sulfur 22:52, 14 July 2007 (UTC)
Thank you for the welcome, Sulfur. Sorry about the image I uploaded; that was an accident because I didn't know what the heck I was doing and stupidly hadn't read the policies and guidelines first. I'm still not sure if I know what the heck I'm doing, but I will learn.-Bridge 14:36, 15 July 2007 (UTC)
Vice Admiral vs. Admiral
The reason I kept making that distinction (r.e. the "Endgame" narrartive) is that it has always seemed false to me to call a rear or vice admiral 'Admiral', a lieutenant colonel 'Colonel', a lieutenant commander 'Commander', or a brigadier general, major general or lieutenant general 'General'. An admiral is an admiral, a colonel is a colonel, a commander is a commander, and a general is a general. Calling the other ranks as if they were the full ranks seems false to me. There's no way in hell I'd call a lieutenant colonel 'Colonel' for example. If he or she became a full colonel, then I would call him that. Until then, it would be always 'lieutenant colonel' from me, at all times. Hope this makes sense.– Watching... listening... 04:34, 1 November 2007 (UTC)
Of Gods and Men
How did you track the site downtime to the announcement of the December release? The WayBackMachine seemed to indicate that it hadn't saved a copy of the site since July — well before the 1 November announcement. Never really used WBM much though, so I'm not sure of its accuracy. CzechOut ☎ | ✍ 20:30, 3 November 2007 (UTC)
Question about a comment added
Hi. I very much respect the fact that you are removing so much of the personal opinions and plain garbage trivia that clutters up Memory Alpha. I occasionally remove POV if I run across it. Question for you. An editor has added a new comment to the ep "Trials and Tribble-ations" which reads something like. "It is probably not a coincidence that "D" is the 4th letter of the alphabet." WTF?! I would remove it, but am afraid it may be something that I totally don't understand as I'm not a big fan of DS9. Would you look at it and determine if it is something worth keeping? Thanks. Sir Rhosis 21:03, 14 May 2008 (UTC)
Ok... there's stupid, and there's really stupid. Take you choice as to which that falls under. :)
I've removed that comment. -- Sulfur 22:47, 14 May 2008 (UTC)

Hi, Sir Rhosis. This was my original response to you, which I was writing before I knew Sulfur already had fixed the page. I was going to say this:

WTF, indeed. I have no idea what the connection is. I even read the original anecdote about the Klingon battle cruiser designation at D7 class and still I don't get it. If you're concerned about just removing it, bring it up on the episode's talk page (without removing it yet) and let's see what people have to say. Maybe somebody can clear it up.

But Sulfur's fixed it anyway now. Cheers! - Bridge 22:53, 14 May 2008 (UTC)

As an aside... I think that the edit was trying to suggest the "infamous" "47" reference. Which, unless noted by the producers... doesn't fly. -- Sulfur 23:02, 14 May 2008 (UTC)

Ahh, I get it. It's ignorant, but I see where he was going. God save us from imagining trivia where none exists. Thanks, guys. Sir Rhosis 02:05, 15 May 2008 (UTC)
VAUGHN ARMSTRONG & MICHAEL DORN
You had no right to delete the edit I posted regarding When It Rains... & the reunion of Vaughn Armstrong & Michael Dorn. They were reunited, "Heart of Glory" was their first time on screen together & then they were afforded the opportunity to work together again. For those unfamiliar with the link between them & It Is A great piece of knowledge & I will put It back. They were Indeed REUNITED. I will put It back after I send you this.
First of all, I have as much right as any other user to edit out your constant stupidity and point out for the umpteenth time that you don't ever read your talk page and have ignored a multitude of warnings. Second, sign your posts. Third, it doesn't matter to me how many times you put it back; it will continue to be removed until you can learn to read and follow the rules. - Bridge 18:45, 23 May 2008 (UTC)
The true nature of current space technology
I am a life long science-fiction fan,
a transhumanist 

(see H+ magazine online if you want to know what the heck that means :), and I am, of course, an overall fan of Star Trek.
I am very dismayed at the actual nature of the motives
and current use of the space programs

I am sure anyone interested in space exploration
will find the following documentary worth watching

I would also suggest this as required viewing for anyone considering a career in space tech today. It starts out a bit slowly with the history... keep watching. You need to know.
http://video.google.com/videoplay?docid=-4835966027154828456&ei=DPiZSf-2KZ64qAOKsPWODQ&q=The+Space+Program+and+the+Military+Industrial+Complex&hl=en#
I have been reading Memory Alpha occasionally for years but just decided to join. I hope to be constructive here.
thanks! Columbia2020 17:03, January 3, 2010 (UTC)
Columbia2020, did you mean to put this here? It looks like it was meant for your own user page. - Bridge 22:25, January 3, 2010 (UTC)
Community content is available under
CC-BY-NC
unless otherwise noted.