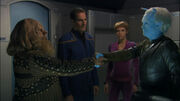 Welcome to Memory Alpha, Brumagnus! I've noticed that you've already made some contributions to our database – thanks for your edit to the The Lives of Dax page! We all hope that you'll enjoy our activities here and decide to join our community.
If you'd like to learn more about working with the nuts and bolts of Memory Alpha, I have a few links that you might want to check out:
One other suggestion: if you're going to make comments on talk pages or make other sorts of comments, please be sure to sign them with four tildes (~~~~) to paste in your user name and the date/time of the comment.
If you have any questions, please feel free to post them in our Ten Forward community page. Thanks, and once again, welcome to Memory Alpha! -- Archduk3 (Talk) 05:45, May 12, 2010
Weapons locker
I moved the reference you originally added to the Background section into the main article, as it was an actual reference to the subject. Background information is anything which has to do with the production of the episode, such as (in the case of weapons locker) what was used to make the set piece, or any other information about its use in the production. Actual references go in the main body of the article in the POV of someone in the Trek universe. See MA:POV for more information.--31dot 09:43, June 3, 2010 (UTC)
Re reversion of your edit
Cobra reverted your edit because it was a nitpick, as stated at this policy. This is because it points out an error in the animation of the episode. We made a decision as a community that these kinds of production errors are not noteworthy, unless they were discussed by a member of the cast or crew(in which case there is documentation on it).
If you see such statements elsewhere, feel free to suggest their removal. We haven't gotten them all since this policy was made.--31dot 21:53, June 9, 2010 (UTC)
You are certainly welcome to, but the decision was made because many percieved "errors" are actually not, and it was also thought that the episode pages should not be bogged down with nitpicks, as that is not our mission. There are websites that do have that as their mission. You can review the discussion on the policy at Memory Alpha talk:Nitpick.--31dot 21:58, June 9, 2010 (UTC)
Similarities
Please keep in mind that we only note similarities which are documented as a deliberate action. As many episode plots or plot elements are similar to others in and out of Star Trek, we cannot know that any "similarity" is more than a coincidence unless there is documentation to prove it. This would include comments in any of the Star Trek reference books, statements from writers or producers, etcetera.
Per your request I did remove the similar statement from the Elaan of Troyius page. Feel free to suggest other similarly uncited statements for removal.
No one denies that TPM is similar to EofT, but as an encyclopedia we need documented evidence of it.--31dot 01:57, June 12, 2010 (UTC)
Community content is available under
CC-BY-NC
unless otherwise noted.