Recommended LayoutYou are currently viewing Memory Alpha without recommended changes to the standard layout. To apply these changes, please click on the following Apply link - to just get rid of this notice, click on Reject. In either case, click Save on the page that follows.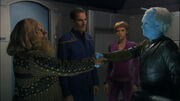 Welcome to Memory Alpha, Constable Odo!
I've noticed that you've already made some contributions to our database – thank you! We all hope that you'll enjoy our activities here and decide to join our
community
.
If you'd like to learn more about working with the nuts and bolts of Memory Alpha, I have a few links that you might want to check out:
One other suggestion: if you're going to make comments on talk pages or make other sorts of comments, please be sure to sign them with four tildes (~~~~) to paste in your user name and the date/time of the comment.
If you have any questions, please feel free to post them in our Ten Forward community page. Thanks, and once again, welcome to Memory Alpha!--Alan del Beccio 03:14, 30 June 2006 (UTC)
Enterprise-B
Edit
Please stop changing the status for the USS Enterprise (NCC-1701-B) article. This status was agreed upon and reasons for explained on the article talk page. Please discuss changes to the status there. --OuroborosCobra talk 01:07, 1 August 2007 (UTC)
Understood! At the time I was new to this and was not sure how things worked around here. Thanks for letting me know and since then I have been going to the talk pages.(Constable Odo 00:30, June 1, 2012 (UTC))
Red links
Edit
Please do not remove red links without explanation; the vast majority of these links are potential articles and should not be removed without comment or explanation, either in the edit summary bar or on the article's talk page. Thanks. 31dot 00:13, June 1, 2012 (UTC)
Okay, I figured something was up. (Constable Odo 00:28, June 1, 2012 (UTC))
Community content is available under
CC-BY-NC
unless otherwise noted.