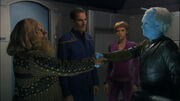 Welcome to Memory Alpha, Delta2373! I've noticed that you've already made some contributions – thank you! We all hope that you'll enjoy our database and decide to join our community.
Since you're new to Memory Alpha, I have a few links that you might want to check out:
If you have any questions, please feel free to post them in one of our forums. Thanks, and once again, welcome to Memory Alpha!--Alan 05:22, 7 May 2007 (UTC)
Very Commendable
Wow, you fixed a typo I made in two minutes! Keep up the good work, mate. :-) – Cleanse 06:17, 16 August 2008 (UTC)
Thanks
I don't know how I did that! :) Thanks for the catch — Morder 06:32, 29 August 2008 (UTC)
Drive Images
I spent a lot of time expanding this summary from the very short, lack-of-detail piece it used to be, and adding images. Mind telling me why you removed them? :( – Watching... listening... 04:11, 3 March 2009 (UTC)
Community content is available under
CC-BY-NC
unless otherwise noted.