Thanks for the worthwhile edits on the Odo page. As an old guy, I find the two goodbyes between Odo & Kira (in Extreme Measures and the series finale What You Leave Behind) the most moving scenes in all seven-hundred-something Star Trek episodes, and interestingly they are both played with great restraint, almost underplayed. Considering that according to the background info, neither Nana nor Rene was particularly enthusiastic when the writers introduced the relationship, they did a fantastic job making it memorable. – CraigG 04:38, 28 November 2008 (UTC)
Recommended LayoutYou are currently viewing Memory Alpha without recommended changes to the standard layout. To apply these changes, please click on the following Apply link - to just get rid of this notice, click on Reject. In either case, click Save on the page that follows.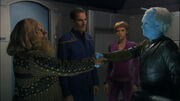 Welcome to Memory Alpha, Fleurdelista!
I've noticed that you've already made some contributions to our database – thank you! We all hope that you'll enjoy our activities here and decide to join our
community
.
If you'd like to learn more about working with the nuts and bolts of Memory Alpha, I have a few links that you might want to check out:
One other suggestion: if you're going to make comments on talk pages or make other sorts of comments, please be sure to sign them with four tildes (~~~~) to paste in your user name and the date/time of the comment.
If you have any questions, please feel free to post them in our Ten Forward community page. Thanks, and once again, welcome to Memory Alpha!--Alan 05:42, 3 February 2009 (UTC)
Tense... on year pages
Edit
Those are done in present tense. It's a conceit of encyclopediae, since those pages are describing things in that year. I don't ask. I just follow suit. :) -- sulfur 15:23, 20 February 2009 (UTC)
Haha, I was starting to wonder why all the year pages I came across were that way ;) Thanks! --Fleurdelista 04:17, 22 February 2009 (UTC)
Community content is available under
CC-BY-NC
unless otherwise noted.