Recommended LayoutYou are currently viewing Memory Alpha without recommended changes to the standard layout. To apply these changes, please click on the following Apply link - to just get rid of this notice, click on Reject. In either case, click Save on the page that follows.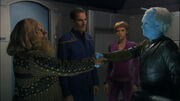 Welcome to Memory Alpha, FormAndVoid!
I've noticed that you've already made some contributions to our database – thank you! We all hope that you'll enjoy our activities here and decide to join our
community
.
If you'd like to learn more about working with the nuts and bolts of Memory Alpha, I have a few links that you might want to check out:
One other suggestion: if you're going to make comments on talk pages or make other sorts of comments, please be sure to sign them with four tildes (~~~~) to paste in your user name and the date/time of the comment.
If you have any questions, please feel free to post them in our Ten Forward community page. Thanks, and once again, welcome to Memory Alpha!--Alan del Beccio (talk) 00:14, September 26, 2017 (UTC)
New file uploads
Edit
Please be sure to add the proper formatting to new image uploads, as stated in our Image Use Policy, before uploading any further images. Mainly context, links, citation, copyright info and category. Thanks.--Alan del Beccio (talk) 13:50, October 2, 2017 (UTC)
Also please note what files have already been uploaded, because you are uploading duplicate files. --Alan del Beccio (talk) 13:51, October 2, 2017 (UTC)
In addition, please note that screen captures should be provided in .jpg format, per MA:IMAGE. Thank you. -- Michael Warren | Talk 16:08, October 2, 2017 (UTC)
I have temporarily blocked you as you do not seem to be heeding the above instructions regarding image uploads. These steps are important for legal and other reasons. If you post here that you have read and understand the above, the block will be lifted. If you do not understand the instructions, please ask and/or read MA:IMAGE. 31dot (talk) 18:33, October 11, 2017 (UTC)
31dot, sorry I didn't see this. I'll know for next time! User:FormAndVoid (talk) 00:00, October 20, 2017 (UTC)
Furthermore -- you NEED to put descriptions onto these images and citations as to source (ie, which episode/film/etc are they from). These things are REQUIRED. The MA:FILE link that's in your welcome message above and in the text above 2-3 times covers all of this. -- sulfur (talk) 11:56, October 24, 2017 (UTC)
Finally, when you replace images (ie, upload a new version), if it is from a different episode than the prior, you MUST update the episode citation. -- sulfur (talk) 12:02, October 24, 2017 (UTC)

Stop uploading files with -0 added. You're just making work for other people, because that file name is extremely unhelpful. -

Archduk

3

21:40, February 13, 2018 (UTC)
Community content is available under
CC-BY-NC
unless otherwise noted.