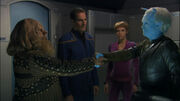 Welcome to Memory Alpha, GILESFAN411! I've noticed that you've already made some contributions – thanks for your edit to the "Rules of Engagement (episode)" page! We all hope that you'll enjoy our database and decide to join our community.
Since you're new to Memory Alpha, I have a few links that you might want to check out:
If you have any questions, please feel free to post them in one of our forums. Thanks, and once again, welcome to Memory Alpha! Archduk3 (talk) 21:43, August 29, 2019 (UTC)
The above named user is an administratorand their signature was automatically added. If you have any immediate questions or concerns, you may contact that user through their talk page.
New categories
Please see MA:CS. -- sulfur (talk) 00:15, December 13, 2019 (UTC)
Truly unbelievable, I get blocked because I proposed a set of categories that make sense. 0n the Miami Vice wiki, they denote both deceased actors and crewmembers. They also specify Academy Award winners in both capacities. Absolutely ridiculous, punished for thinking ahead. How many others do you abuse like this?--GILESFAN411 (talk) 01:08, December 13, 2019 (UTC)

Um, you click the link, you make a suggestion, others vote and if it's good to go, then you add the categories. You don't just jump in feet first and do what other wikis do. We're not other wikis, and no one is punishing anyone, just simply trying to get your attention because you've clearly overlooked our order of operations, not to mention ignored Sulfur's post above and kept adding shit anyway. --Alan (talk) 01:17, December 13, 2019 (UTC)
Does something so rife with common sense really have to be voted on by committee? The Miami Vice Wiki highlights Ed Lauter, Maurice Hurley and other Trek alumni as deceased performer or crewmember and I doubt they needed to petition the House Appropriations Committee to create said categories. Again, this is a common sense addition to the site.--GILESFAN411 (talk) 01:27, December 13, 2019 (UTC)
Like Alan said, this isn't the Miami Vice wiki, nor is it Wikipedia or any other wiki. Each wiki community has its own rules, conventions, style guides, etc. What may make perfect sense on one may not on another. And on most wikis, things are decided on a consensus basis. MA has decided to curate, or moderate, categories, which need to be proposed and then voted on. Most other things don't, as long as the rules and stylistic conventions are followed. Any rule can be changed by a vote as well; many things have changed that way over the years. Just follow the rules and you'll be fine. A word of advice, though; the best way to fit into *any* new group is to watch, listen, and learn for a while, until you get the lay of the land. A good example of what *not* to do is to right off the bat tell folks they're wrong. Just my two cents. :) -- Renegade54 (talk) 01:51, December 13, 2019 (UTC)
MA:NOT, there's your memo. It was in the deletion reason too. How many more clues do you need. --Alan (talk) 18:30, March 22, 2020 (UTC)
But if reading is too hard, as there is no yourtubelink for MA:NOT, let me be more specific: "Memory Alpha is not a discussion forum. We're not here to chat or to discuss ideas – we're simply here to write the encyclopedia. If you would like to discuss "Trek", please visit one of the available Trek bulletin boards. To chat about MA, see our discussions feature." --Alan (talk) 18:32, March 22, 2020 (UTC) Not just the YouTuber Bamalam who raises this, but the conjecture is even being reported by YahooNews. Seems to be an ever-growing theory now taking the show by storm. Again, here is the video, https://www.youtube.com/watch?v=jvdqCqiAe0s --GILESFAN411 (talk) 18:34, March 22, 2020 (UTC)
So I get blocked because I protested the bulldozing of the work I was trying to submit on David Paymer's page and what do I get in return for calling out having my work destroyed? I get gaslit, the following administrators 31dot, Sulphur and finally Renegade accusing me of being this guy JAREDPAULBARATTA. I decided to take a deep dive into his page, and have seen massive abuse on the part of Memory Alpha directed his way. I feel really bad for him. The both of us have been assaulted, bullied and BLOCKED! This to say the least is upsetting. Yeah, scapegoat another victim of your abuse to justify the attack on my work. Monday at both 11 in the morning and 4 in the afternoon I worked up Paymer's 80s television work and both times I go to submit, it was gone. Pretty sure Jared has been attacked the same way. Jared, I am so sorry they have done this to you. Makes me wonder how many other victims are out there. And I get accused of histrionics because I get pissed off that my work was destroyed not once, but TWICE! This site fucking sucks!--GILESFAN411 (talk) 17:53, April 7, 2020 (UTC)
Then stop coming. I'm going to help by ending your access to this page, Jared. As I said, you might actually be able to fool people if you actually did what we have asked you do to for years and years, change your attitude and style of writing, but you just can't help yourself. 31dot (talk) 17:58, April 7, 2020 (UTC)