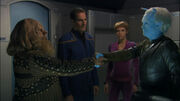 Welcome to Memory Alpha, Gary Mintz! I've noticed that you've already made some contributions to our database – thanks for your edit to the Drex page! We all hope that you'll enjoy our activities here and decide to join our community.
If you'd like to learn more about working with the nuts and bolts of Memory Alpha, I have a few links that you might want to check out:
One other suggestion: if you're going to make comments on talk pages or make other sorts of comments, please be sure to sign them with four tildes (~~~~) to paste in your user name and the date/time of the comment.
If you have any questions, please feel free to post them in our Ten Forward community page. Thanks, and once again, welcome to Memory Alpha! -- Jörg (Talk) 13:15, August 7, 2010
The above named user is the most currently available administratorto contribute to Memory Alpha; their signature was automatically added by User:Wikia. If you have any immediate questions or concerns, you may contact that user through their talk page.
The removal of the image from Kor's page was a mistake and I was attempting to put it back but had Browser issues. Thanks for putting it back. --Gary Mintz 03:20, August 8, 2010 (UTC)
Access
I have checked both email accounts that I would have used and I have yet to receive the email that would reset my password and allow me access. ~ Gary Mintz ~
Figured out the password used and I'm able to access now. --Gary Mintz 22:32, August 30, 2010 (UTC)
Community content is available under
CC-BY-NC
unless otherwise noted.