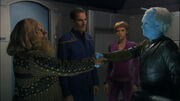 Welcome to Memory Alpha, In Correct! I've noticed that you've already made some contributions to our database – thanks for your edit to the "Talk:Night Terrors (episode)" page! We all hope that you'll enjoy our activities here and decide to join our community.
If you'd like to learn more about working with the nuts and bolts of Memory Alpha, I have a few links that you might want to check out:
One other suggestion: if you're going to make comments on talk pages or make other sorts of comments, please be sure to sign them with four tildes (~~~~) to paste in your user name and the date/time of the comment.
If you have any questions, please feel free to post them in our Ten Forward community page. Thanks, and once again, welcome to Memory Alpha! -- Archduk3 (Talk) 07:11, March 21, 2012
Talk pages
Edit
When posting on talk pages, please indent your posts, if you are not the first poster on a talk page(or section of a talk page), with a colon at the start of your posts. If you were the second poster, put one colon. If you were the third poster, put two colons, and so on. This makes it easier to keep track of who wrote what. Thanks 31dot 16:44, April 11, 2012 (UTC)
Please also check the dates of comments you reply to; older posts (more than a few years) should be considered archived. If you feel it necessary to post a comment, please start your own section or subsection of the talk page. 31dot (talk) 08:35, September 5, 2016 (UTC)
Removing valid information
Edit
Please check information before you're removing them. You've recently removed information from the remastered version from three articles. Second, please use the "Preview" button when editing an article instead of making multiple changes to an article in a short time. Thanks. Tom (talk) 14:58, January 15, 2016 (UTC)
When you're editing an article there are three buttons, "Save", "Preview", and "Show Changes". I don't know which skin you're using? When you think there is information which is maybe not correct there are other ways to get attention instead of removing information. For example check this and this page. Please read the instructions how to edit and about the etiquette linked on this talk page at the beginning. Sarcasm is not the best way. Tom (talk) 17:07, January 15, 2016 (UTC)
Community content is available under
CC-BY-NC
unless otherwise noted.