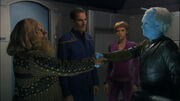 Welcome to Memory Alpha, Joshmaul! I've noticed that you've already made some contributions to our database – thanks for your edit to the Boris Lee Krutonog page! We all hope that you'll enjoy our activities here and decide to join our community.
If you'd like to learn more about working with the nuts and bolts of Memory Alpha, I have a few links that you might want to check out:
One other suggestion: if you're going to make comments on talk pages or make other sorts of comments, please be sure to sign them with four tildes (~~~~) to paste in your user name and the date/time of the comment.
If you have any questions, please feel free to post them in our Ten Forward community page. Thanks, and once again, welcome to Memory Alpha! -- Shran (Talk) 08:44, 24 June 2009
The above named user is the most currently available administrator to contribute to Memory Alpha; their signature was automatically added by User:Wikia. If you have any immediate questions or concerns, you may contact that user through their talk page.
Charlie Brill
Edit
Do you have a citation for his dob? — Morder (talk) 04:47, 21 July 2009 (UTC)
Please review MA:QUOTE, as quotes in the Memorable Quotes sections should not be more than one or two lines- if you need more than that, the quote is not too memorable.--31dot 20:56, March 6, 2011 (UTC)
References
Edit
Please note that Memory Alpha generally doesn't use the <ref> tag, and instead uses inline citations. The only time reference tags should be used is if the reference is in a table and an inline citation or bg note would be problematic. - Archduk3 07:10, February 3, 2012 (UTC)
Hey just an FYI, Memory Alpha uses past tense in its articles, not present tense.
Community content is available under
CC-BY-NC
unless otherwise noted.