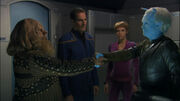 Welcome to Memory Alpha, LazyReader! I've noticed that you've already made some contributions – thank you! We all hope that you'll enjoy our database and decide to join our community.
Since you're new to Memory Alpha, I have a few links that you might want to check out:
If you have any questions, please feel free to post them in one of our forums. Thanks, and once again, welcome to Memory Alpha!--Alan (talk) 04:35, July 31, 2016 (UTC)
Your block on wookieepedia has expired.--98.237.203.35 16:47, March 31, 2018 (UTC)
Citations
I see you've added a lot of info without citing it to an episode. Not only is citing stuff very important, but as a general rule of thumb if you can't cite some specific claim to something concrete in some specific scene, then that shouldn't be added. That goes even if what you are adding feels like common knowledge or a general observation to you. If you can't find it explicitly confirmed somewhere, then that's a pretty strong sign that it probably should not be added.
People tend to have this general idea on how stuff clearly seems to work, but unless it can't be cited, we can't be certain that it really does. -- Capricorn (talk) 16:48, August 12, 2018 (UTC)
Citations, again
Please note that you should *not* be adding information to an article without citing where that information came from. Very little real-would info should be added that isn't heard or seen on screen; conclusions and speculation should not be added (we let the readers draw their own conclusions); information that *does* come from on screen should be cited to that episode or film. Please don't add uncited information because someone else will need to clean up after you. Thanks. -- Renegade54 (talk) 13:38, May 8, 2020 (UTC)
Community content is available under
CC-BY-NC
unless otherwise noted.