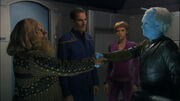 Welcome to Memory Alpha, MoffRebus!
I've noticed that you've already made some contributions to our database – thank you! We all hope that you'll enjoy our activities here and decide to join our
community
.
If you'd like to learn more about working with the nuts and bolts of Memory Alpha, I have a few links that you might want to check out:
One other suggestion: if you're going to make comments on talk pages or make other sorts of comments, please be sure to sign them with four tildes (~~~~) to paste in your user name and the date/time of the comment.
If you have any questions, please feel free to post them in our Ten Forward community page. Thanks, and once again, welcome to Memory Alpha!– Cleanse 11:15, 30 November 2008 (UTC)
Nitpicking
Edit
Please note that nitpicking is not allowed on Memory Alpha. There are many production errors with Star Trek and many possible explanations; we can't list them all.--31dot 01:40, March 31, 2012 (UTC)
Disambiguation links
Edit
Please note that "engine" is a link to a disambiguation page. When adding links to pages, please make sure that you verify the links you add and ensure that they go where you expect them to go. -- sulfur (talk) 14:38, September 11, 2012 (UTC)
Please take a moment to read the file use policy. All images uploaded to MA need a proper image licensing template as well as citations. Images without an image licensing template or citation will be removed from articles and are subject to deletion. If you have any questions about how to add the requirements or why this needs to be done, feel free to ask. - Archduk3 18:04, March 9, 2014 (UTC)
Community content is available under
CC-BY-NC
unless otherwise noted.