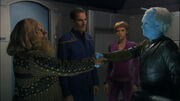 Welcome to Memory Alpha, Morder/Archive! I've noticed that you've already made some contributions – thank you! We all hope that you'll enjoy our database and decide to join our community.
Since you're new to Memory Alpha, I have a few links that you might want to check out:
If you have any questions, please feel free to post them in one of our forums. Thanks, and once again, welcome to Memory Alpha! – Tom 21:16, 26 November 2007 (UTC)
removing white from images
Thanks! Feel free to jump on as many as you can, less for me to do later :) --Alan 03:44, 8 May 2008 (UTC)
Main Cast Listings
I noticed you reverted a few of my edits this evening. I was just wondering why you thought it was necessary. I added a lot of these main cast listings myself a few months ago - most of the episodes did not have them until then. The only reason I started updating them again is because I just noticed it this way in the episode article for ENT: "Silent Enemy", which is nominated to be a featured article! I had actually added the main cast listing to that article back in March, but someone else added the ranks to it earlier this month. I agree it could be a little tricky during some episodes where the characters appear in flashbacks, but I figured that if this featured article had it this way we should standardize. Maybe you should change the main cast listing for that article and see if anyone complains! In any case, we should standardize on something, no?
Also, I like the idea of adding Tucker's nickname at least, because it is shown at way in some of the quotes. That is also the way his name is listed on the StarTrek.com site. I am going to go ahead and make only this change until we figure out the rest.
Frankly, your argument that the ranks appear in the character descriptions and so do not belong in the cast listing could be applied to their first names as well! — Greg (talk) 00:54, 23 May 2008 (UTC)
No offense taken! I started adding the main cast listings a while back when I saw them in a few episodes and thought it might be a good idea to standardize. It is kind of nice to have a place in the article to go to find a link to the character profile without having to type in the name or search through the article. The StarTrek.com episode pages list the main characters as well, though they do not list the ranks. But we do list the ranks for other characters, like Admiral Maxwell Forrest or Vulcan Ambassador Soval.
There is nothing wrong with redundancy, unless we are trying to save a few K of storage on the hard drive! LOL! — Greg (talk) 01:23, 23 May 2008 (UTC)
Agreed, for co-stars, listed at the end of the episode, but there are no names listed on screen for the main characters and guest stars! Also, Tucker is often referred to as "Trip" in the episodes, and even in the episode articles here.
Thanks for the civil discussion, BTW... it is refreshing! — Greg (talk) 01:45, 23 May 2008 (UTC)
Community content is available under
CC-BY-NC
unless otherwise noted.