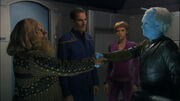 Welcome to Memory Alpha, Nosfer2! I've noticed that you've already made some contributions – thank you! We all hope that you'll enjoy our database and decide to join our community.
Since you're new to Memory Alpha, I have a few links that you might want to check out:
If you have any questions, please feel free to post them in one of our forums. Thanks, and once again, welcome to Memory Alpha!

--Alan del Beccio 17:24, 24 February 2007 (UTC)
Edit summary
Just a tip to save you some typing- it's not neccesary to add that much detail to the edit summary when you make some edits. For example, if you fixed a spelling error you could just put 'spelling fix' or something similar. The history tab at the top of an article page provides a record of what edits were made in detail. Just in case you get tired of typing. :) --31dot 14:58, 6 January 2008 (UTC)
Thanks! I'll try to remember. ;) – Nosfer2 13:28, 7 January 2008 (UTC)
Community content is available under
CC-BY-NC
unless otherwise noted.