Line 23:
Line 23:
 
 
 

==Lorelei Signal==

 

==Lorelei Signal==

−

I don't understand what you deleted my comment. GO check out the exact same section for the first TAS episode. They have a similar bit with Scotty.--[[User:Brumagnus|Brumagnus]] 21:48, June 9, 2010 (UTC)

+

I don't understand you deleted my comment. GO check out the exact same section for the first TAS episode. They have a similar bit with Scotty.--[[User:Brumagnus|Brumagnus]] 21:48, June 9, 2010 (UTC)
---
Revision as of 21:49, 9 June 2010
For older discussions, see my 2006 archive, 2007 archive, 2008 archive, 2009 archive, and 2010 archive
---
---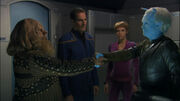 Welcome to Memory Alpha, OuroborosCobra! I've noticed that you've already made some contributions – thank you! We all hope that you'll enjoy our database and decide to join our community.
Since you're new to Memory Alpha, I have a few links that you might want to check out:
If you have any questions, please feel free to post them in one of our forums. Thanks, and once again, welcome to Memory Alpha!
The above message was automatically added.

Jaz talk 00:36, 31 May 2006 (UTC)
IAMD Update
Hi, OuroborosCobra. I see you conditionally supported the removal of featured article "In a Mirror, Darkly" last year, on the condition that the summary be made shorter. I'd therefore like to let you know that not only has the summary been considerably shortened but also a lot more background info has been added to the article, which has been duly renominated for FA status. --Defiant 04:30, May 17, 2010 (UTC)
General Chang Image
Hmm, what if I were to lighten up the photo of General Chang? Would that help or do you think it would take away from the "canon" considering it would be a modified image then? --Nihilus Shadow 00:53, May 18, 2010 (UTC)
I'm not a fan of altering the images. I'd suggest a picture from a different scene. Perhaps the transporter scene, where the Klingon guests are leaving after dinner? --OuroborosCobra talk 01:12, May 18, 2010 (UTC)

I'll see what I can do, although I'm not sure there are any good full body shots of the General in those scenes. Probably plenty off good close up, head shots though. I'll let you know. --Nihilus Shadow 00:13, May 19, 2010 (UTC)
Worf
I see what I did wrong there with Worf's image, (the image of course is labeled 2375), but I didn't catch it until after I updated it. If I were to upload that image as a new photo and label it Worf2379, would you say that image is decent or should I take another look. I'm also still looking into that General Chang image. --Nihilus Shadow 06:20, May 29, 2010 (UTC)
The image you have of Worf from Nemesis is quite good. It would definitely make a good one for the top of the article. Upload away :-) --OuroborosCobra talk 06:22, May 29, 2010 (UTC)
Lorelei Signal
I don't understand why you deleted my comment. GO check out the exact same section for the first TAS episode. They have a similar bit with Scotty.--Brumagnus 21:48, June 9, 2010 (UTC)
Community content is available under
CC-BY-NC
unless otherwise noted.