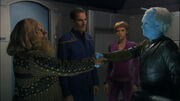 Welcome to Memory Alpha, Paradoxian!
I've noticed that you've already made some contributions to our database – thank you! We all hope that you'll enjoy our activities here and decide to join our
community
.
If you'd like to learn more about working with the nuts and bolts of Memory Alpha, I have a few links that you might want to check out:
One other suggestion: if you're going to make comments on talk pages or make other sorts of comments, please be sure to sign them with four tildes (~~~~) to paste in your user name and the date/time of the comment.
If you have any questions, please feel free to post them in our Ten Forward community page. Thanks, and once again, welcome to Memory Alpha! - Adm. Enzo Aquarius...I'm listening 17:25, 3 June 2007 (UTC)
Please note that we use the past tense for almost all articles; please see this page for more information. Thanks --31dot 01:19, June 18, 2011 (UTC)
Community content is available under
CC-BY-NC
unless otherwise noted.