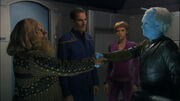 Welcome to Memory Alpha, Saavikam! I've noticed that you've already made some contributions to our database – thanks for your edit to the Violin page! We all hope that you'll enjoy our activities here and decide to join our community.
If you'd like to learn more about working with the nuts and bolts of Memory Alpha, I have a few links that you might want to check out:
One other suggestion: if you're going to make comments on talk pages or make other sorts of comments, please be sure to sign them with four tildes (~~~~) to paste in your user name and the date/time of the comment.
If you have any questions, please feel free to post them in our Ten Forward community page. Thanks, and once again, welcome to Memory Alpha! -- Shran (Talk) 06:13, 1 April 2009
Which memory-alpha
Uou might want to make sure you're on the right memory alpha when you upload new photos :) — Morder (talk) 12:28, September 28, 2009 (UTC)
I know. I'm sorry. :o I promise I'll pay much more attention as far as my next pix uploading goes. --Saavikam 12:40, September 28, 2009 (UTC)
FA Nominations
Hi there. I noticed you have made several contributions to articles here on Memory Alpha. Perhaps you would consider voting for one (or more) of our nominees in the featured article nomination process? If you support an article as one of Memory Alpha's best works, simply put Support along with your reasoning. If you object to an article becoming featured, just put Oppose along with your reasoning. Featured articles help us to showcase the Memory Alpha community's ability and it's only through the participation of users such as yourself that we can get these articles featured. Thanks for your time. Live long and prosper! -- | TrekFan Open a channel 14:56, February 23, 2011 (UTC)
Community content is available under
CC-BY-NC
unless otherwise noted.