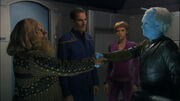 Welcome to Memory Alpha, Shambala108! I've noticed that you've already made some contributions – thanks for your edit to the "User talk:Gvsualan" page! We all hope that you'll enjoy our database and decide to join our community.
Since you're new to Memory Alpha, I have a few links that you might want to check out:
If you have any questions, please feel free to post them in one of our forums. Thanks, and once again, welcome to Memory Alpha! Renegade54 (talk) 02:21, March 21, 2020 (UTC)
The above named user is an administrator and their signature was automatically added. If you have any immediate questions or concerns, you may contact that user through their talk page.
Apologies
Edit
Re: Over at Tardis
It wasn't an issue of not understanding how seriously you took the rule, I thought you were talking to him for removing my comments, not me. I read the vandalism rule and it didn't seem to apply to adding comments for context. I apologize, and understand completely. That was just miscommunication, but I understand the block. Just explaining my end.Najawin (talk) 02:31, May 21, 2020 (UTC)
Community content is available under
CC-BY-NC
unless otherwise noted.