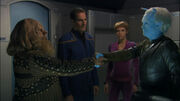 Welcome to Memory Alpha, TheHYPO! I've noticed that you've already made some contributions – thank you! We all hope that you'll enjoy our database and decide to join our community.
Since you're new to Memory Alpha, I have a few links that you might want to check out:
If you have any questions, please feel free to post them in one of our forums. Thanks, and once again, welcome to Memory Alpha!
-- Sulfur 22:37, 22 July 2006 (UTC)

Removing things
Just as a tip, whenever you remove something significant from an article, its usually a good idea to archive it to the talk page. This way others can discuss it if they wish to.--31dot 08:38, November 17, 2009 (UTC)
Talk pages
Hi, I've replied to your comment on the talk page for Avery Brooks. Just a small request, though. If you wish to encourage discussion on an old comment, it's not good practice to simply copy/paste the comment again with a new date/time stamp. This only serves to duplicate text on the page. You should really add a reply to the original discussion, if relevant, asking for input. | TrekFan Open a channel 17:46, July 22, 2015 (UTC)
Community content is available under
CC-BY-NC
unless otherwise noted.