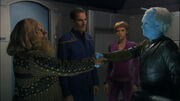 Welcome to Memory Alpha, VaderFan01! I've noticed that you've already made some contributions – thanks for your edit to the "Directed energy weapon" page! We all hope that you'll enjoy our database and decide to join our community.
Since you're new to Memory Alpha, I have a few links that you might want to check out:
If you have any questions, please feel free to post them in one of our forums. Thanks, and once again, welcome to Memory Alpha! Gvsualan (talk) 02:43, January 4, 2020 (UTC)
The above named user is an administrator and their signature was automatically added. If you have any immediate questions or concerns, you may contact that user through their talk page.
Lara was called a Human in the episode. Furthermore, you're messing up her page with bad formatting. -- Capricorn (talk) 19:30, January 4, 2020 (UTC)
Past tense
Edit
per MA:POV everything on MA is past tense. --Alan (talk) 20:57, January 24, 2020 (UTC)
Alpha/beta shift links
Edit
Why do you keep removing the links from alpha shift and beta shift? Please stop. -- Renegade54 (talk) 20:43, February 6, 2020 (UTC)
La Sirena
Edit
La Sirena is the name of a ship, not a title. Even though "la" is "the" in Spanish, it's sorted by "L", not by "S". Please leave it where it is in the sort order. Thanks. -- Renegade54 (talk) 02:09, February 14, 2020 (UTC)
Multiple edits
Edit
Please make use of the Preview button when making edits. This allows you to see what your edit looks like before you save it, which reduces the load on the database and makes the Recent Changes page easier to read. Thanks. 31dot (talk) 21:57, February 23, 2020 (UTC)
Red links
Edit
And stop removing or piping red links. They have a purpose, they are there for a reason. Just stop. --Alan (talk) 01:37, February 24, 2020 (UTC)
Emily "Emmy" Bosch
Edit
In case you hadn't seen it yet, questions have been raised... -- Capricorn (talk) 23:46, February 29, 2020 (UTC)
Page moves
Edit
Follow the guideline. - Archduk3 21:01, March 27, 2020 (UTC)
Community content is available under
CC-BY-NC
unless otherwise noted.