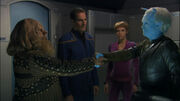 Welcome to Memory Alpha, VaderFan01! I've noticed that you've already made some contributions – thanks for your edit to the "Directed energy weapon" page! We all hope that you'll enjoy our database and decide to join our community.
Since you're new to Memory Alpha, I have a few links that you might want to check out:
If you have any questions, please feel free to post them in one of our forums. Thanks, and once again, welcome to Memory Alpha! Gvsualan (talk) 02:43, January 4, 2020 (UTC)
The above named user is an administratorand their signature was automatically added. If you have any immediate questions or concerns, you may contact that user through their talk page.
Lara
Lara was called a Human in the episode. Furthermore, you're messing up her page with bad formatting. -- Capricorn (talk) 19:30, January 4, 2020 (UTC)
Past tense
per MA:POV everything on MA is past tense. --Alan (talk) 20:57, January 24, 2020 (UTC)
Alpha/beta shift links
Why do you keep removing the links from alpha shift and beta shift? Please stop. -- Renegade54 (talk) 20:43, February 6, 2020 (UTC)
La Sirena
La Sirena is the name of a ship, not a title. Even though "la" is "the" in Spanish, it's sorted by "L", not by "S". Please leave it where it is in the sort order. Thanks. -- Renegade54 (talk) 02:09, February 14, 2020 (UTC)
Multiple edits
Please make use of the Preview button when making edits. This allows you to see what your edit looks like before you save it, which reduces the load on the database and makes the Recent Changes page easier to read. Thanks. 31dot (talk) 21:57, February 23, 2020 (UTC)
This still applies. You're way overdoing it on Rene Picard. --Alan (talk) 17:29, February 26, 2020 (UTC)
Red links
And stop removing or piping red links. They have a purpose, they are there for a reason. Just stop. --Alan (talk) 01:37, February 24, 2020 (UTC)
Emily "Emmy" Bosch
In case you hadn't seen it yet, questions have been raised... -- Capricorn (talk) 23:46, February 29, 2020 (UTC)
Page moves
Follow the guideline. - Archduk3 21:01, March 27, 2020 (UTC)
Don't remove it. Just don't. It's a required element when 'Status' is set. And no, it's not always related to the 'death' date. -- sulfur (talk) 14:45, June 23, 2020 (UTC)
Do not remove 'incite' tags unless you cite something.
It's that simple. If you have a citation, add it. If you don't, leave the incite tag up until it has one. -- sulfur (talk) 20:34, June 24, 2020 (UTC)
Models
Stop it. These pages should only link to the model, or if there isn't a page for that the subject. You would know this if you had read any of the explanations for people reverting your edits the last five times. Don't do it again. - Archduk3 18:22, August 4, 2020 (UTC)
Constant edits
There is ZERO reason for you to be making 50+ petty edits a day to a single page, which is absolutely unnecessary and quite annoying. Figure out what you need to do before you do it, then do it once. --Alan (talk) 16:23, August 10, 2020 (UTC)
Unnamed redirects
If you don't understand how they work, don't remove them. Post on a talk page asking for someone to fix them. It's FAR less work for the rest of us to have to clean-up after you then. -- Sulfur (talk) 19:01, August 14, 2020 (UTC)
In USE
When a page has the "in use" template at the top. DO NOT EDIT IT UNTIL THE TEMPLATE IS NOT THERE ANYMORE. -- Sulfur (talk) 18:04, August 15, 2020 (UTC)
Background characters
When adding links to BG characters, if you aren't going to upload a screenshot, please mention a timestamp in the edit summary so that other editors can look for those characters to screenshot them to document them.
For example, I've seen 3 Taxors in the latest episode (two BG shoppers, and the one with lines, all three documented with screenshots). Where is the third shopper you added?
Also, you added a mention of Vulcans on the planet. Where did you spot those? -- Sulfur (talk) 21:08, August 15, 2020 (UTC)
There is another green Taxor in the same scene as the third shopper, and I saw a couple of Vulcans in the landing area near Little Qo'noS. —- (talk) 21:20, August 15, 2020 (UTC)
Where on the screen did you see the Taxor? The shoppers I've seen were when it did the overview of the market (#2), they walked past one after talking to the Klingon selling gagh (#1), then bumped into the male knocking his food over (male).
What's the time stamp of the show and where in the scene is the other? -- Sulfur (talk) 21:53, August 15, 2020 (UTC)
The second green Taxor (#3) can be seen at 10:07, on the left side of the screen, in between a pot or brazier and a red awning. A third green Taxor (#4) can also be seen in that area, albeit from behind. — VaderFan01 (talk) 22:03, August 15, 2020 (UTC)
Found them both. Thanks -- see how helpful that gets? :) -- Sulfur (talk) 22:27, August 15, 2020 (UTC)
LD supporting roles
Hi! Just out of curiosity, how did you find out which voice actor performed which supporting character on LD? —Josiah Rowe (talk)
stop
I know exactly what I am doing, you do not. Stop changing shit I keep fixing. --Alan (talk) 15:23, August 31, 2020 (UTC)
If you cannot communicate properly with other users, then you needn't be here, when I know for a fact I have "corrected" these references a half dozen times. There is a system, believe it or not, and you are saturating the page with all kinds of stupid by mixing everything up.
"Peninsula" is not equal to "Iberian Peninsula" and a proper noun or at least the key term should never be made second fiddle to a generic term; nobody is going to expect to find those terms when they are they peruse for the key terms. They are two completely different things, a classification and an actual thing, not synonymous.
If "sand" was casually referenced as being the same substance as "blue sand", and blue sand is more than simply blue-colored sand, then blue sand should be the key word and sand really isn't a reference to sand, but a synonymous reference.
If "blue sand" and "sand" were referenced in two completely different contexts like 'magic blue sand in a jar' and '(beach) sand in my shoes', they are not synonymous and are two completely different things and are separately alphabetized. --Alan (talk) 16:57, August 31, 2020 (UTC)
Lieutenant jg
Please note that our naming convention is to use lowercase "jg" in Lieutenant jg, not uppercase, as it's an abbreviation for Lieutenant junior grade, not Lieutenant Junior Grade. Lieutenant JG (and Lieutenant Junior Grade) only exists as a redirect for searches, or for somewhere where it's a direct quote. -- Renegade54 (talk) 18:44, October 8, 2020 (UTC)
Community content is available under
CC-BY-NC
unless otherwise noted.