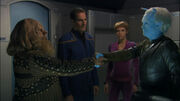 Welcome to Memory Alpha, Warp One! I've noticed that you've already made some contributions – thank you! We all hope that you'll enjoy our database and decide to join our community.
Since you're new to Memory Alpha, I have a few links that you might want to check out:
If you have any questions, please feel free to post them in one of our forums. Thanks, and once again, welcome to Memory Alpha!
- AJHalliwell 21:34, 18 Sep 2005 (UTC)

New articles, yet no new info
Hi, could you please refrain from creating articles with little to no info like Double or Nothing? Unless you can actually contribute to an article, it should probably remain a "red link" so that someone who knows about the trek relevance of a subject, or has the book on hand, could see it and contribute much easier. They might glance over it if they think the article has already been written. Also, when you click on the link, you should expect to see more information on the subject than you did on the original page.--Tim Thomason 18:49, 22 Dec 2005 (UTC)
Community content is available under
CC-BY-NC
unless otherwise noted.