Star Trek Timeline [INTERACTIVE]
Play Sound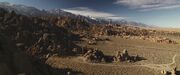 Vasquez Rocks was a location on the planet Earth.
In 2399, Raffaela Musiker was living there when Jean-Luc Picard came to pay her a visit. (PIC: "Maps and Legends", "The End is the Beginning")
Appendices
Background information
Vasquez Rocks Natural Area Park is a county park in Agua Dulce, California, roughly thirty miles north of Los Angeles. The area has been used in the filming of numerous Star Trek productions, including at least ten television episodes and two movies.
History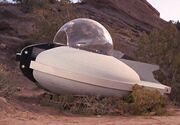 Vasquez Rocks is named after notorious bandit Tiburcio Vásquez, who used the rocky region to elude capture from California law enforcement in 1873 and 1874. On the television series Stories of the Century, Vasquez was portrayed by Anthony Caruso. Since 1928, nearly two hundred other film and television productions have been shot at Vasquez Rocks, including many westerns. The park was acquired by Los Angeles County in 1970.
Classic television shows such as Gunsmoke, Maverick, Bonanza, The Wild Wild West, and Kung Fu have all utilized Vasquez Rocks for filming, as have more contemporary hit shows like Airwolf, Alien Nation, Sliders, Buffy the Vampire Slayer, Mighty Morphin' Power Rangers (the rocks were used for the location of the Power Rangers' Command Center, which was in fact the House of the Book at the Brandeis-Bardin Institute used for Camp Khitomer in Star Trek VI: The Undiscovered Country), Roswell, 24, and CSI.
Films that have been shot at the region include the 1931 classic Dracula, Mel Brooks' 1974 western comedy Blazing Saddles, the 1991 science fiction comedy film Bill and Ted's Bogus Journey, the cult 1993 horror film Army of Darkness, the hit 1997 comedy Austin Powers: International Man of Mystery, Tim Burton's 2001 remake of Planet of the Apes, and Nick Cassavetes' 2006 drama Alpha Dog.
Star Trek
The first episode to be partially filmed at Vasquez was "Shore Leave" (in which it depicted the Shore Leave Planet along with Africa, USA), spending two and half days on location, on Monday 24 October 1966, Tuesday 25 October 1966 and Wednesday 26 October 1966. In the next month, another two Star Trek episodes were shot there, "Arena", spending two days at Vasquez, on Wednesday 9 November 1966 and Thursday 10 November 1966, and "The Alternative Factor". The latter also spent two days filming on location, on Tuesday 22 November 1966 and Wednesday 23 November 1966. Star Trek returned to Vasquez for the second season, to film "Friday's Child", which also spent two days on location, on Wednesday 24 May 1967 and Thursday 25 May 1967.
For "Arena", the destroyed colony at Cestus III was also filmed near Vasquez, at an outdoor fortress set, originally built by Screen Gems for the series Tales of the 77th Bengal Lancers. Filming there took place on Friday 11 November 1966.
Vasquez was seen again almost twenty years later in Star Trek IV: The Voyage Home, when some of the Vulcan scenes were filmed there. Three years later, in August 1989, the Star Trek: The Next Generation third season episode "Who Watches The Watchers" was also located at Vasquez. Star Trek: Voyager also filmed scenes at Vasquez, including the barren moon surface for "Initiations" in July 1995 and the desert for "Gravity" in September 1998. In late-July 2001, Vasquez portrayed the Xyrillian homeworld in the Star Trek: Enterprise first season episode "Unexpected".
In late-2007, director J.J. Abrams shot the Vulcan scenes of 2009's Star Trek at Vasquez Rocks as an homage to its use in previous Trek productions. [1]
In January 2012, Abrams filmed some scenes at Vasquez for Star Trek Into Darkness. [2]
Star Trek: Picard also used Vasquez as a location, filming the exteriors of Raffi Musiker's home there for "Maps and Legends" and "The End is the Beginning" in early-May 2019. For the first time, the Vasquez Rocks were portrayed as themselves instead of as a stand-in for a different location.
Appearances in Star Trek
Spoofs

Free Enterprise
Jay and Silent Bob Strike Back (A diner in a scene filmed at the location was named "The Arena Diner", as an homage to the episode "Arena").
Brandeis-Bardin Institute's House of the Book, digitally edited atop, to create the Command Center/Power Chamber for the first five seasons of Mighty Morphin Power Rangers
The Big Bang Theory, Episode "The Bakersfield Expedition".
Monk, Episode "Mr. Monk and the UFO".

Franchise documentaries
Fan films
External links