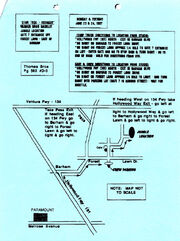 The Warner Bros. backlot is part of the Warner Bros. Entertainment production company, located in Burbank, California, and features dozens of exterior sets used for film and television productions.
Jungle/Lagoon & Roadhouse set
For the third filmed episode of the fourth season, "Nemesis", the production spent two days at the Warner Bros. backlot, filming scenes at the "Jungle set". On Monday 23 June 1997, and Tuesday, 24 June 1997, this location stood in as the surface of a planet in the Delta Quadrant. A whole set, the Larhana settlement, was built at this location. Beside main cast members Robert Beltran and Tim Russ, a group of guest actors, background performers, and stunt performers under Stunt Coordinator Dennis Madalone started filming at 7:15 am. Lisa White worked as location manager on this episode.
A map of this location is attached to the call sheet of the first day of filming. This call sheet also features the notes "Please come early if you want to have breakfast" and "Avoid wearing scents, will attract insects". Sunrise was at 5:42 am and sunset at 8:08 pm. Breakfast was ready at 5:30 am and hot lunch at 12:30 pm at Warners at the Western Street.
In 2000 the production of Star Trek: Voyager filmed several jungle scenes of the Hirogen training facility for the episode "Flesh and Blood" at the "Jungle/Lagoon & Roadhouse set". Lisa White served as location scout for this shooting. Among the actors who filmed their scenes on 30 August 2000 and 31 August 2000 are Spencer Garrett, Todd Jeffries, Chad Halyard, Shanta Payne, Jeff Clark, and Redondo Philip.
The call sheets feature the notes "Rain or Shine" and "Be prepared for summer weather, bugs, bees and other natural occurances". Ian Henrich worked as set first aid on these days.
External link
Community content is available under
CC-BY-NC
unless otherwise noted.