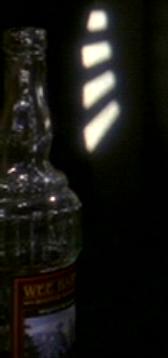 Wee Bairns was a type of Earth Scotch whisky. It was enjoyed by such people as Gabriel Lorca and Miles O'Brien. (DIS: "Lethe"; DS9: "The Assignment", et al.)
Bottles were labeled "interstellar import". During the 24th century, the label on a Wee Bairns bottle showed an image of a Constitution-class engine room and the legend "...now there's a drink for a man,".
During the Federation-Klingon War of 2256, Captain Lorca shared a bottle with Admiral Katrina Cornwell. Cornwell described it as "straight from the motherland." (DIS: "Lethe")
Jadzia Dax gifted O'Brien a bottle of Wee Bairns for his forty-fifth birthday, in 2373. (DS9: "The Assignment")
Later that year, O'Brien shared a bottle of Wee Bairns with his friends, during a dinner party at Benjamin Sisko's quarters. (DS9: "In the Cards")
External link
Edit
Community content is available under
CC-BY-NC
unless otherwise noted.