What We Left Behind – Looking Back at Star Trek: Deep Space Nine is a documentary, taking a retrospective look at Star Trek: Deep Space Nine, its influence, meaning and legacy. The documentary was produced by 455 Films and directed by Ira Steven Behr and David Zappone. Shout! Studios released the film.
The documentary also features several of the writers breaking the story of a hypothetical eighth season of the series. Working with CBS Digital, scenes from all seven seasons have been remastered in high definition.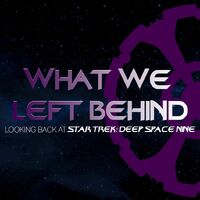 In addition to interviews with most of the Deep Space Nine main and recurring cast – with the notable exception of Avery Brooks, whom Behr was unable to convince to participate but did advise Behr to not just make a talking heads film – the documentary will also include Behr, Ronald D. Moore, Robert Hewitt Wolfe, René Echevarria, and Hans Beimler breaking the story for an eighth season of the series – Behr advising the writers to "check the Trek page" for the series finale in advance. [1]
The documentary was first revealed by Behr during the Deep Space Nine panel at the Star Trek Las Vegas convention in August 2016. A crowd-funding campaign to complete the documentary, including additional interviews, post-production, and licensing clips from the series, was launched on 9 February 2017 and reached the goal by the next day. [2]
The documentary premiered in New York, Los Angeles, and London. Blu-ray, DVD, and digital versions have been released as well.
Background information
Edit
Ira Steven Behr announced the documentary in 2016, but had been working for some years on the project. Behr commented: "We all went through this unbelievable experience that took seven years of our lives and now we've had all this distance from it, and it was like what does the show mean – what does the show mean to us as individuals, as people, and what does the show mean, if anything, in terms of the franchise and the culture... I had been interviewed a couple times for other docs, Trek docs, and I got really friendly with Bill Shatner and had a wonderful interview with him for the TNG doc and then Dave Zappone said, 'We can't do Shatner again, would you like to be Shatner'?". [3]
Behr also commented: "What inspired me was, I went to my first convention in 13 years back in 2012. Dave Zappone, who had done all these other Star Trek documentaries, Chaos on the Bridge, The Captains, Spock, came up to me and said, "Hey listen, Bill Shatner is not going to do another Star Trek documentary." He did three in a row. They interviewed me and him, so that's how I knew Dave. He said, 'Bill's not going to do another one, and we want to do a Deep Space 9 doc. How would you like to be Bill Shatner, and interview all the actors, and do this doc?' I never thought of doing a doc. I was just in a good mood because I was seeing people I hadn't seen. Avery Brooks, I hadn't seen in 13 years. We had this big reunion, hugs, and all this stuff. I was feeling really, really positive. I just said yes without thinking". [4]
Development
Edit
The documentary was planned to be more than a series of talking heads interviews, an approach suggested by Avery Brooks to Ira Behr. This gave Behr the idea of filming in the writers room as they developed what an eighth season would be like. Behr commented: "That was an idea that I had based on a conversation with Avery, because Avery kept saying, "Don't make it talking heads only." It got me thinking, what would be something you've never seen before? There were ground rules, which was everyone had to watch the final episode of season seven, so everyone remembered where everyone was on the playing field, or at least read the Wikipedia page. We weren't going to have any cheat sheets. We are going in there with nothing for one day to see if we could get through a pilot episode of the show. And we did. Obviously, as with any show, you don't break a show in a day – and if you do, you still go back the next day and refine. This is the raw material, but it's a fascinating process. We had a fantastic time doing it. It was amazing how time slipped away and everyone was back doing their thing and interacting and arguing and getting passionate and it was really a magic day". [5]
Adam Nimoy, son of Leonard Nimoy, became director and a producer of the documentary after finishing For the Love of Spock. [6] He later stepped down from the project due to other commitments.
Nimoy commented: "After 173 episodes, people still want more DS9, which is not unusual as fans felt the same way about TOS, which only produced 79 episodes. We're sticking to the original vision for the documentary, but with some modifications. These things evolve over time, and the fact of the matter is DS9 evolved dramatically through seven seasons for a number of reasons, and we're going to be looking at that, as well as what the show was about, how it changed, a focus on the characters and how they evolved over time. Then we're going to try and take a look at what's happened over the past 17 years since the show stopped airing. A lot of the perception of the show has changed. Accessibility to the show has changed in terms of being able to rewatch the series. We're going to look at the show to see what are the elements that have appealed so much to fans in retrospect, and what has happened over the past 17-20 years in pop culture, and on the planet, to cause people to reassess DS9, and bring it out as one of the jewels in the crown of the Star Trek franchise. There's just this immense popularity, due in no small part to the fact that a number of the original cast members are still out there, are still attending conventions, are still together, and there's a lot of camaraderie and love that they've extended to the Star Trek family that I've observed from attending conventions. So while the documentary is evolving, much like the show did, we are staying true to that original concept of "What made this show so special?"" [7]
Partial DS9 remastering
Edit
Standard definition frame grab of Deep Space 9 (left) compared to an enlarged, 1080p HD version (right).
The documentary makers approached CBS about having footage from DS9 remastered. [8]
The documentary team wrote that they planned "to follow up with our intent to scan and remaster selected shots from the series for presentation for the first time in HD. While we want to reiterate that nothing's guaranteed until we can get into details further with various departments, we've been empowered by our positive talks with CBS Television Studios, along with guidance from familiar faces Mike & Denise Okuda and VFX master Doug Drexler, among others".
Nimoy commented: "We've really expanded the scope of the project – the length of the time will expand &neash; but it also allows us to acquire more clips from CBS from the original episode... and we are now in discussion with CBS about trying to get to the original negatives, to rescan them to give high-definition resolution to our film so that Deep Space Nine can be seen in high def for the first time. CBS is open to discussion – it's expensive, it's complicated, there's a lot of logistics involved – but now that we have the financial backing to pursue this, we're really determined to make it happen". [9]
Behr commented: "For many, many years – and decades, it seems – I've talked to people about getting DS9 in HD, discussing ways to make it happen. It's not what I set out to do with the doc, it would be an offshoot of it. If it doesn't happen, I'm not going to feel like, 'Oh, damn, that was a level of success we did not reach.' It's a total offshoot – has to do with money [and] other things – it's not so much a matter of the series itself, it's just the technology of how the film was shot and how the special effects were shot back then, and the changeover. It would be nice. Just imagine: if we do get a chance to do the clips [for the doc] – I'm not talking about the series – the clips for the doc, in high def. That would be... extremely cool. Plus, it would give the fans another decade of dreaming what the whole series would look like! It would be that little taste, a lovely little taste – that first injection that leads to so many others". [10]
In July 2017, Behr commented: "I have not been happy about the DVDs. I have talked about it for twenty frickin' years. I was disappointed with the way the show looked on DVD and the idea of giving the fans something they haven't seen before and getting to look at the show and going "Oh, wow, that is a pleasant surprise." It's something we have wanted to do since we first talked about this doc".
"We have the Okudas [Mike and Denise] involved and they are looking to see what is available and most importantly of all, what are the costs. It is not cheap. So we will have to see. There are all sorts of things being thrown around, including the possibility of finding things that haven't been seen before, from deep within the vault; possibly takes that haven't been seen or parts of scenes that weren't used. The Okudas have a wide open mandate". [11]
Eventually, twenty minutes of footage were selected for remastering for which four hundred reels of 35 mm films had to be scoured. [12] Of the scenes eventually remastered, it was the visual effects heavy battle sequence from "Sacrifice of Angels" that was the most challenging and expensive to do so (see: Remastering projects' ramifications), and it constituted the highlight of the remastered scenes, being featured twice in the documentary. [13]
Fundraising campaign
Edit
The crowdfunding for the documentary was undertaken by Indiegogo. After the first goal was successfully reached in donations, four stretch goals were announced: the first to extend the documentary from sixty minutes to ninety minutes, the second to commission an original score for the documentary and an extended writers room feature, the third to film more interviews. The fourth goal was secret at the beginning, but was revealed later as approaching CBS for original footage from the series to be remastered in high definition.
The success of the crowdfunding campaign took Behr and the documentary filmmakers by surprise. He commented: "When they told me they were going to go, we had already been working on the doc for a couple of years. It was going to be an hour long doc at the time. They said, "We need money for the animation and for music. We're going to raise a 150,000." I said, "Can we do that in 30 days?" They said, "Well, we think so." I said, "I don't want to do it if we're not going to make the goal because it's just too embarrassing." They said, "No, no, no. We're going to make a 150 in 30 days." Then in 29 hours, we made like 159,000. It's like, "You guys seriously underestimated the potential here." It was like, "Oh my God, this is a feature film now. This is serious business. This is like a full-time job. This is not something I'd do on the weekends. Holy," you know. So, yes, it was quite surprising, and very fulfilling that the fans came through in that way". [14]
Several tongue-in-cheek videos were released, including one where a "Mr. F" approaches Behr in secret with money for the documentary, worried that "Patrick" might find out. [15]
Production
Edit
The filmmakers discovered a treasure trove of material from when DS9 started production in 1992. This material included audition tapes from various actors, including Peter Capaldi and Anthony Head. [16] [17]
Premiere and release
Edit
The documentary was screened in Los Angeles on October 12th, 2018 and in New York on October 14th, 2018. [18]
Shout! Studios released the documentary. [19]
The documentary was screened in select theaters on 13 May 2019. Backers of the documentary were able to watch the documentary on April 25, 2019. [20]
After the theatrical releases, the documentary was released in the USA on DVD, Blu-ray Disc, and as a digital format through Prime Video on 6 August 2019.
Other media
Edit
The John Eaves-designed USS Emmett Till (β) will be released as a model in the Star Trek: The Official Starships Collection and possibly feature in Star Trek Online.
Behr was approached to develop the story of season eight into a graphic novel but declined. [21]
Reception
Edit
Trekcore called the documentary: "the definitive and best Star Trek documentary ever produced". [22]
The Irish Times recommended the film to see in the summer of 2019. [23]
Interviewees
Edit
Uncredited archive footage
Edit
Produced by
Film Editing by
Makeup Department
Production Management
Art Department
Sound Department
Camera and Electrical Department
Other crew
Thanks
Content gallery
Edit
External links
Edit
Community content is available under
CC-BY-NC
unless otherwise noted.