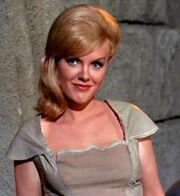 Wrigley's pleasure planet was an inhabited planet.
In the mid-23rd century, Crewman Darnell met a girl on this planet. While on M-113, Darnell compared Nancy Crater to this girl, before being rebuked by Doctor McCoy. Neither realized "Nancy" was the M-113 creature in disguise; they were each seeing separate illusions of a woman's appearance. (TOS: "The Man Trap")
This planet was only mentioned in dialogue.
External link
Edit
Community content is available under
CC-BY-NC
unless otherwise noted.